Stats
Cillit Bang FC lost on both fixtures.
Cillit Bang FC scored in every game to date.
10th Game of the Season for Lambon.
10th Game of the Season for Long.
Long looking to score against Onshore FC in both games.
10th Game of the Season for Stroud.
Stroud looking to beat his best scoring streak of 3 games.
Wrench scored his 10th goal of the season.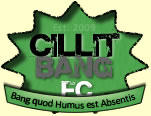 Match Report
Cillit Bang FC blown away by 7 minutes of madness!!!
Same lineup as the last game (Matty and Bang unavailable), playing the team in third, looking for an improved performance from the previous encounter and to avoid the double defeat.
Onshore FC were surprisely late for the game's kick-off against a team fighting to win their first match since the start of the season. It started well for Cillit Bang FC, although unable to keep the possession, Lucho and Lambon were solid in defense giving Stroud in goal little to contend with for the first 10 minutes. The first half wasn't littered with shots, Wrench firing straight at the keeper in the best chance for Cillit Bang FC, Stroud doing well in the centre of the pitch covering a lot of ground his shot unable to test the keeper as he would of liked.
Lambon breaking forward and linking with his team-mates, unlucky not to score after his recent brace.
Subs: ON 9 Long - 10 Mike | OFF 4 Lambon - 8 Lucho
After around 10 minutes at 0-0 both Lucho and Lambon took a breather and that was a very bad / killer move as comfortable as they were in defense. Long and Mike had to contend with a player on the opposite team who was either brilliant or lucky as he scored 6 goals in 7 minutes single handedly. Even the midfielder for Onshore FC admitted they were a one man team. Yet again Cillit Bang FC were holding out for a long period and conceding too many in a short amount of time. Perhaps wholesale changes to the defensive substitutions was the wrong tactic at that stage.
Subs: ON 4 Lambon | OFF 14 Stroud
Half-Time Score: Cillit Bang FC 0-7 Onshore FC
With a start to the second half the form of the opposition player who scored 6 dropped in front of goal, but that didn't stop his skill enabling his teammates to score a few goals themselves early on.
Subs: ON 8 Lucho - 14 Stroud | OFF 4 Lambon - 10 Mike
It was a quiet half for Stroud in goal, usually full of endless saves, after the score was nearing 10-0 the play was clearly turning as a flurry of pressure / goals from Cillit Bang FC was causing the opposition to make mistakes, clearly getting fatigued as the match wore on.
A pass from Lucho enables Wrench to turn and shot on the edge of the area, the ball deflecting off goalie's leg over his head but saved on the line. Lucho playing well in a defensive position making passes and frustrating the opposition with great defensive play.
Penalty Missed Won by high pressure from Long making the defender pass back in his own area. Clinical in training Lucho takes his penalty brilliantly, but unfortunate to score with a briliant diving save from their keeper, it wasn't looking like Cillit Bang FC were going to score a goal in a match for the first time ever.
Subs: ON 10 Mike | OFF 9 Long
Goal Pass from the back from Lucho to Wrench who flicks the ball back to goal around the defender for Mike charging down the left from a defensive position and scores his first goal for Cillit Bang FC with the outside of his right foot in the bottom left corner.
Well into the second half, the sides were even, equal possession, Lucho calm and collected on the ball, making lots of passes to his teammates. Mike unfortunate not to double his goal tally after a long range shot was saved. Stroud hot on goalscoring form had chance after chance to score but it wasn't his night after getting another powerful shot saved by the goalkeeper.
GOAL Stroud breaks through the defense and gets his shot away off the post and into Wrench's path who shoots wide, chests the rebound down and volleys it right footed in the bottom right corner.
Subs: ON 4 Lambon | OFF 8 Lucho
GOAL Penalty Another defensive lapse from the defender gifts another penalty away, this time Lucho uninterested, Wrench seizes the chance for the spot kick amid Stroud's optimism for another goal. Abuse from the Onshore FC players did not faze Wrench as a powerful side foot (right) into the left of the goal was just what Wrench was looking for... his 10th goal of the season.
With Wrench on back to back Hat-Trick chances for the second match in a row a long shot from Stroud landing near the right corner for Wrench to pick up, he was unable to curl his shot left footed into the far corner mearly being saved at the near post. An immediate counter attack caused bemusement in defense as a shot saved by Stroud clearly deceiving the closest player to the ball as it bounced out into the forwards path to round Stroud and slot home.
Clearly a better performance from the team in green (particularly in the second half) with an improvement on the previous encounter, however, conceding quick goals proving costly again. A game against the team in first next week... although top of the league, it did prove a better scoring game for Cillit Bang FC last time round.
Second Half Score: Cillit Bang FC 3-5 Onshore FC
Final Result: Cillit Bang FC 3 - 12 Onshore FC