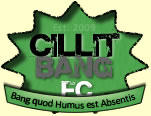 Match Report
Cillit Bang's injury hit team with a much improved performance but still beaten.
Another game, another new player, three regulars out - 2 with injuries but a first appearance for Matty who has overcome his thigh problem.
One of the best starts to a game made to date yet, keeping the opposition out with plenty of tackles from Matty. 1-0 down but doing better than previous weeks.
3 quickfire goals suddenly ruined the good work already done from the first 5 minutes.
A first league appearance for Matty and unfortunate to concede a penalty touching the ball in our box, which they scored from (happened to me twice in a row in our first game and the lines need painting they aren't clear enough).
Few shots early on to trouble their keeper, a lovely pass inside on the right from Stroud to Wrench who shot across the keeper just missing the far post.
Further goals started to leak until a left foot finish into the top right of their goal from Wrench after fine work down the left from Stroud and Lambon greeted with an angry player on the opposing team aggrieved at losing their clean sheet.
Bang came on and instantly had 2 chances to score, with Wrench failing to capitalise on a rebound with the goal.
12-1 and more of the same.
Cillit Bang hit back in the second half after a string of fine saves from Stroud, including a penalty save diving to his right.
Another trademark left foot shot from Bang smashed into the net followed by a goal from Stroud dispossessing the opponent in midfield and coolly slotting home.
With the second half pretty much even, goals conceded straight from kick off after scoring did not help as with the fourth goal by Stroud with a pass inside from Jay, instantly met with a goal from Harvester Allstars.
Stroud on his hat-trick had 2 half chances and Lambon with more time than he realised couldn't get his shot on target. Wrench hit both posts but on the full time whistle managed to slot in his second of the night from a rebound from Jay's shot and cutting inside the defender.
With a second half performance of 4-6 it was a much improved showing from CB.
Half-Time Score: Cillit Bang FC - Harvester Allstars
Second Half Score: Cillit Bang FC - Harvester Allstars
Final Result: Cillit Bang FC 5 - 18 Harvester Allstars