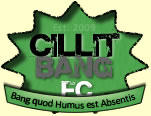 Match Report
Cillit Bang FC stun the league by winning their second match, or did they...
Due to Deportivo Lack 'a' Talent being ineligible to take part in the rest of the season, Cillit Bang FC are automatically awarded an 8-0 forfeit win, boosting them up one space to 7th.
Final Result: Cillit Bang 8 - 0 Deportivo Lack 'a' Talent
Yes i know, your disappointed. You were looking forward to another cracking Match Report well fortunately due to some last minute quick thinking from our manager, a friendly was organised.